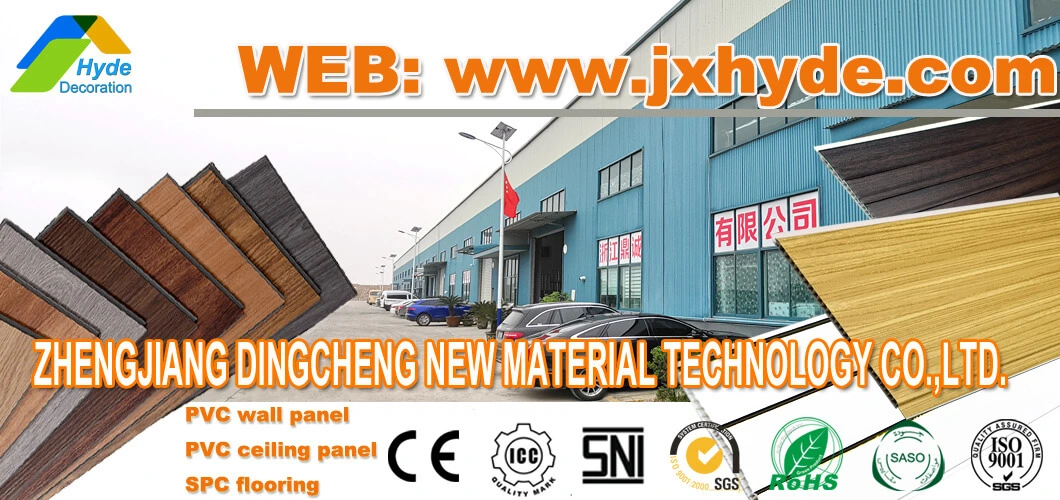 Our Company are located in Jiaxing City,Zhejiang Province, We are the professional manufacturer and Exporter of PVC decoration material.With add invested in 2016, we updated our production equipment, and improved the technology and quality of our products. So far, our company already have 20 years in pvc panel .
Our Products widely use for household and commercial building's interior decoration ,
With three Mainly Series : PVC Ceiling Panel ,PVC Wall Panel,SPC Flooring ,with cover almost all the area decoration need .
We constantly strives to provide the excellent products and customer service to achieve our customer satisfaction. Welcome contact with us if you have any question and idea about our products and we cherish you every feedback. And you could contact us to get a sample for confirm before you plan to start the order. Welcome contact us to book a factory visit.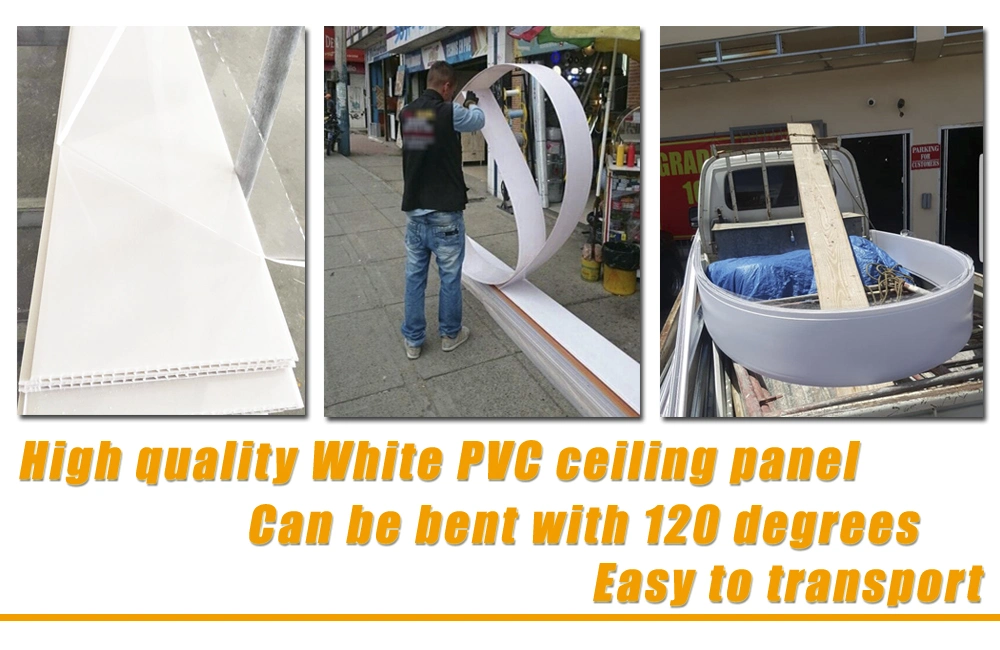 Specification :
Products HS CODE : 352590


1 width: 200mm ( 8inch )
2 thickness: 7mm
3 surface: printing
4 Length: 5.8m for 20GP
5.95m for 40HQ
9/10/12 feet or at customized
5

Used for interior ceilings and walls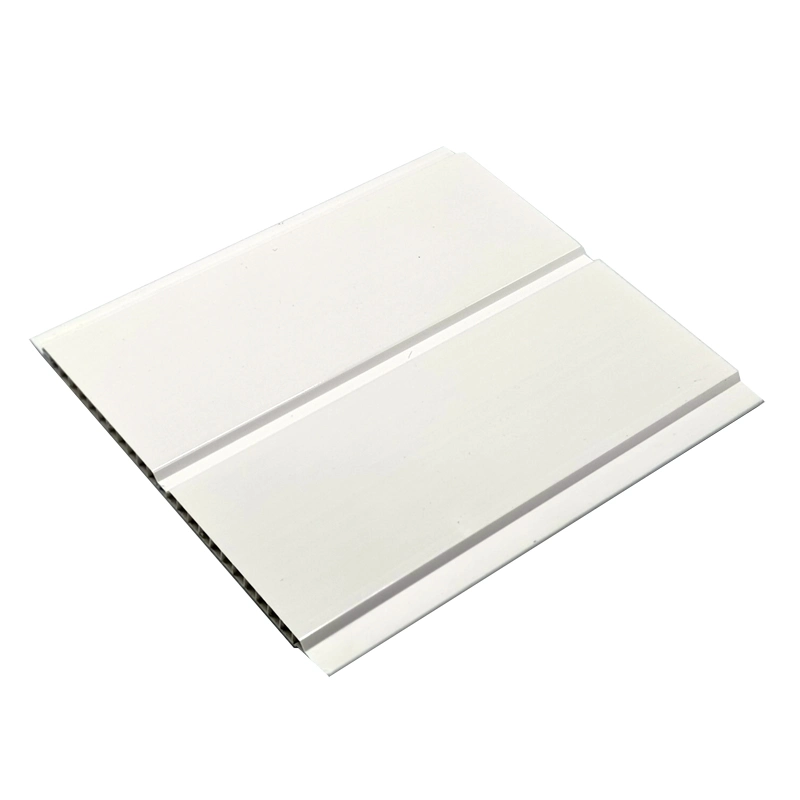 Relative information:
Length:
3.95/5.8/5.95m or at customized
Usually 20'GP load 5.80m.
40'GP or 40'HQ load 5.95m to save the container freight charge.
Your optional length is also acceptable.
Pvc content:
40% 45% 50% 55% 60% or at customized
Design(color):White,wooden,marble ect more than 2000 colors can meet you choose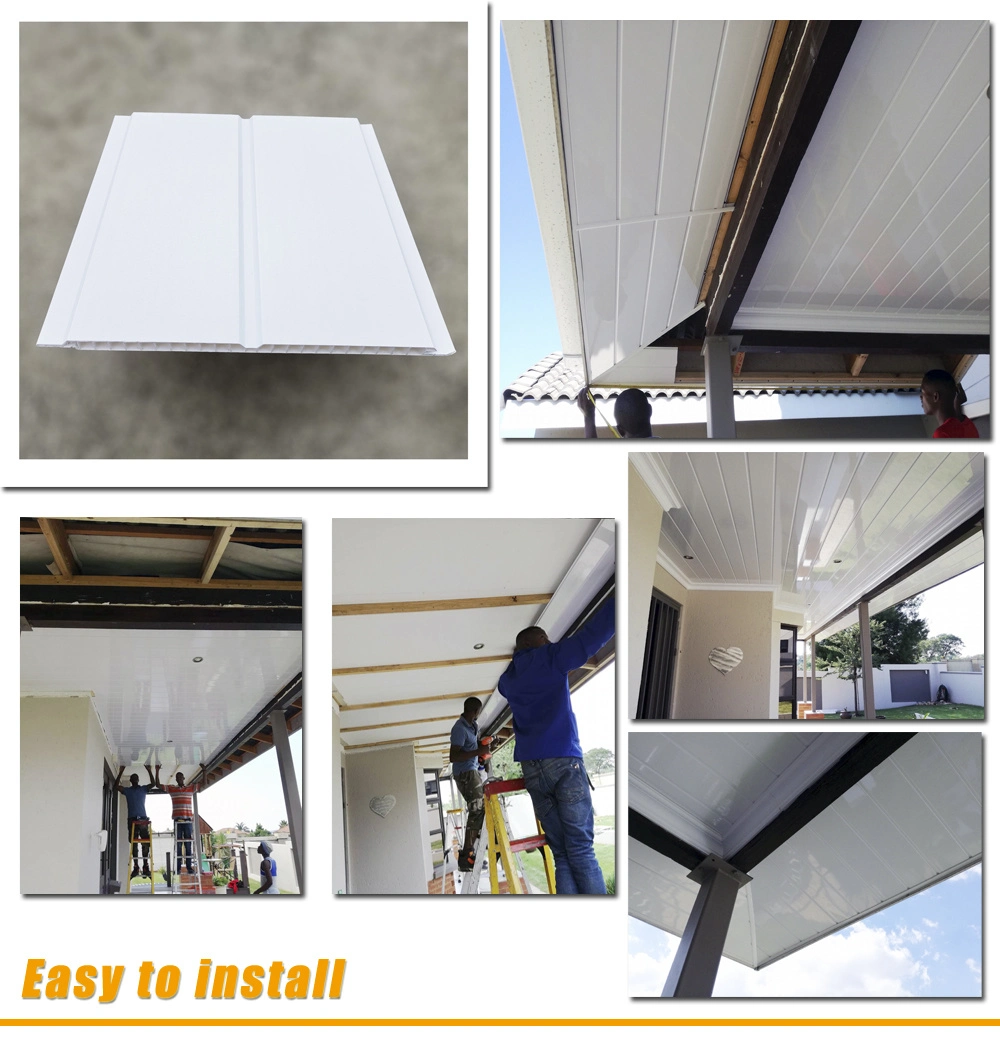 The Features
1 Quick and easy installation
2 Water resistant
3 Widely used for decorating the Ceiling panel of the rooms and house
4 Easy to clean
5 Hygienic , eco-friendly
6 Can be installed horizontally or vertically
7 Good thermal insulation & sound insulation
8 It can be produced according to customer's supplied samples
Application
Our PVC Ceiling panel can widely use for household and commercial area ceiling decorations . For example
Household area: Such as ceiling for living room / kitchen / study / bedroom / bathroom / balcony / aisle corridor / storage room / garage, etc.
Commercial area:Supermarket / Shopping Mall / Hospital / School / Airport / Factory / Restaurant / Hotel / Office etc.
Our pvc ceiling panel can reach high request for waterproof ,with more decoration area support.

White color is the basically color styles hot sale for every market , it's simple and clean ,suitable for almost all decoration scenes .
When you headache with the color selection, white color is your best choice .

And we also supply different color styles on surface like wooden color /marble color /wallpaper color series from light to dark ,from simple to Luxury ,from classic to fashionable with over 2000 kinds color designs ,You can contact us for more color and panel styles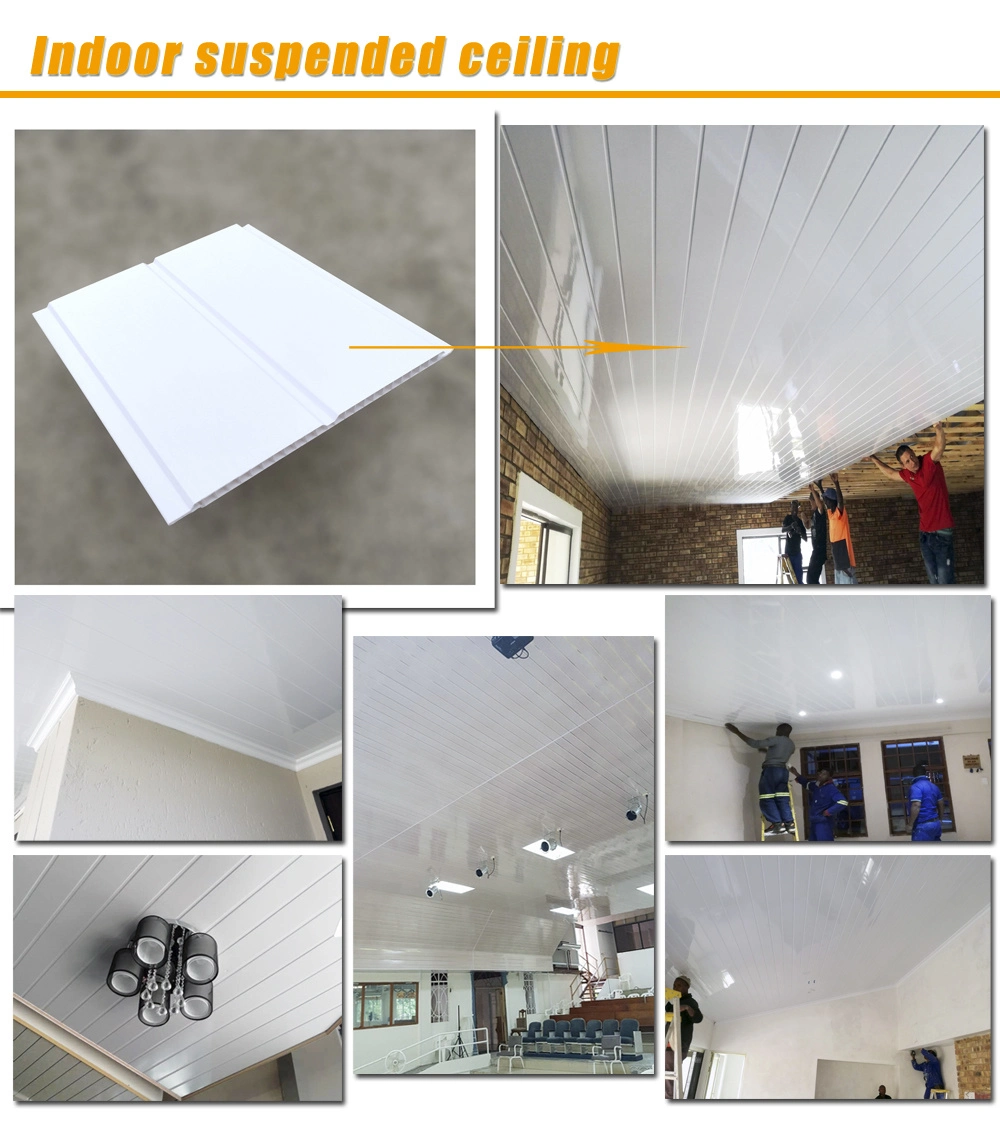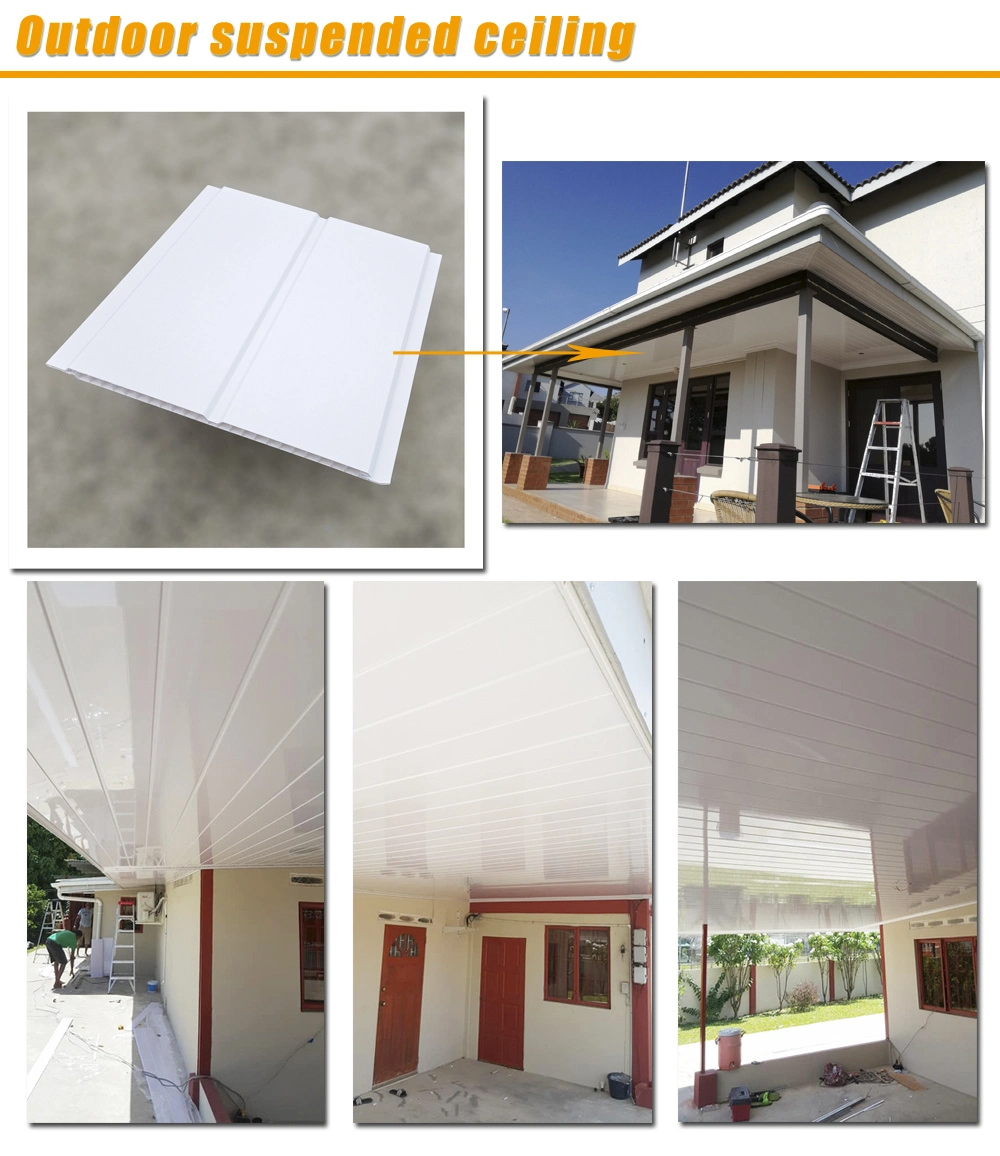 Basic products information
Material : PVC resin, calcium carbonate, some other ingredients

Width×Thickness (MM)

PVC content

Length (M)

100×9; 160×8;

40%




45%




50%




55%


60%
or at customized
3/4.5/5m or
at customized


20GP(max 5.8m)




40HQ(max 5.95m)




200×6; 200×7; 200×7.5;200×8;200×9;200×10;




200x11;200×12;200×20;

250×5; 250×6; 250×7;




250×7.5; 250×8; 250×8.5; 250×9;250x9.5

300×6;300×7; 300×7.5;300×9

400x7;400x8;400x9;

Surface Treatment

printing; Hot stamping; Laminated;high glossy

Packing

PE film(bundle); Carton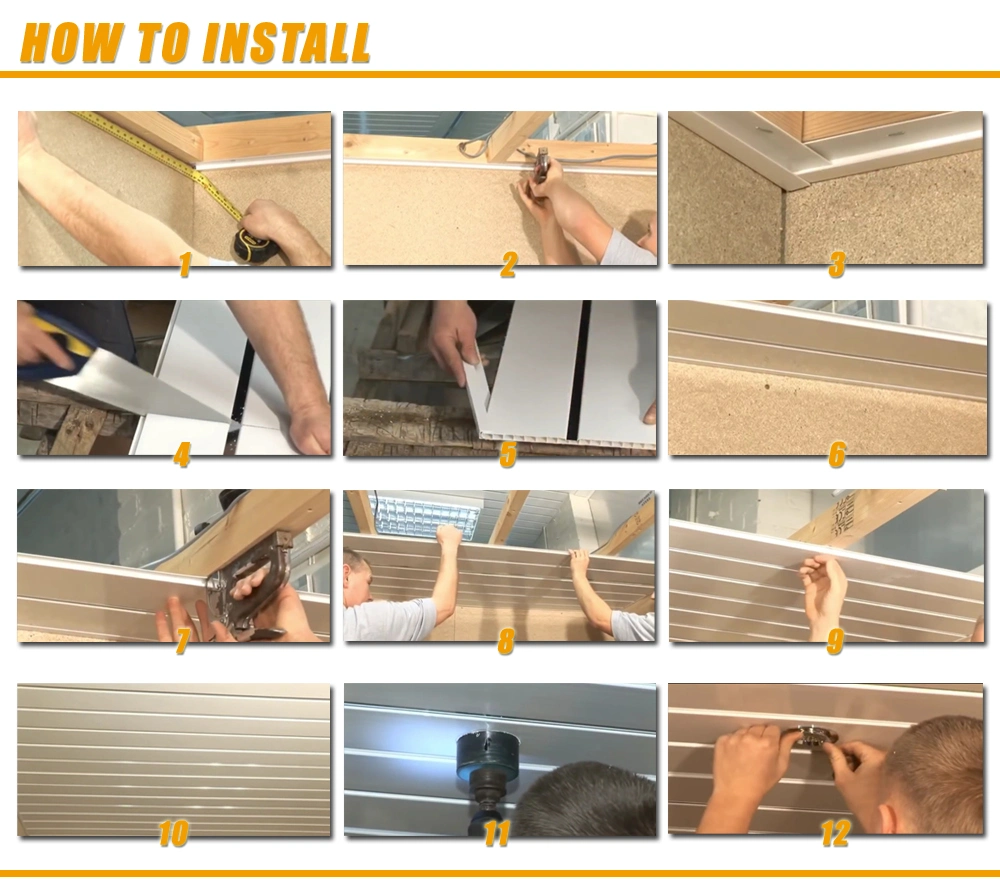 Fix the wooden structures onto the ceiling as below to build the frame before installation the pvc panel (Recommended space between each horizontal wooden battens around 50cm(Aluminum keel also ok )
1.Measure the size of the installation space;
2.3Cut suitable size for U clips /top clips ,install on by screws .
4.5.6.Cut the first pvc ceiling panel's siding soft tongue, make it close and insert to the clip,with screws on pvc ceiling panel and wood keel with 50cm distance .
7.8.9 same steps to put on screws and insert the pvc ceiling panel .
10.11.12. Make the hole on pvc ceiling panel as need to install the light .
Accessories For Corner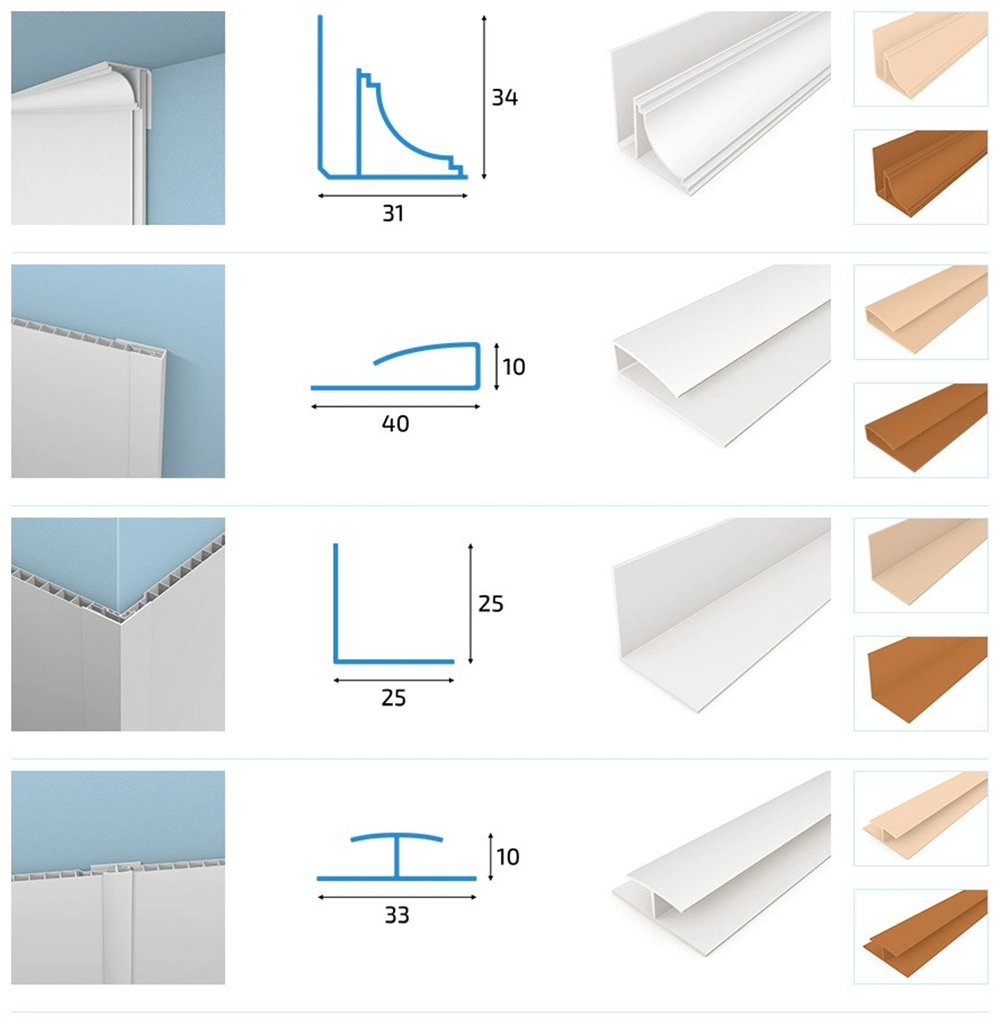 Mainly use clips : U CLIPS / TOP CLIPS(Corner Cove)
Customer can take the clips as different decoration need

Our Service :
1. Experience and Qualified Supplier with 20 years
2.Cover almost market panel making mold and color styles
width from 100mm to 600mm
Thickness 5mm to 25mm
Rate of PVC 40%~80%
Length can make as standard 2.9m/3.95m/5.95m or customization
If you need use for ceiling decoration,usually range of weight 1.8kg-3.5kg per square meter
If you need use for wall decoration,recommend range of weight with 2.8kg-6kg per square meter ; Partition wall 5kg-11.5kg/square meter
3.Accept OEM / ODM Service,You can easy build your own brand with our high quality products .
4. Accept Product customization, but we recommend that you have a certain order quantity, otherwise the cost of the mold will be higher.
5.Accept Color Customization(Also we have over 2000 color styles by ourselves,cover the market hot sale color series)
6. Free Sample
7.24 Hrs Online Service
8. Comprehensive products coverage, including pvc ceiling / pvc wall panel / matching accessories/ SPC floor, etc. Customers can purchase in our company together, saving logistics costs and time.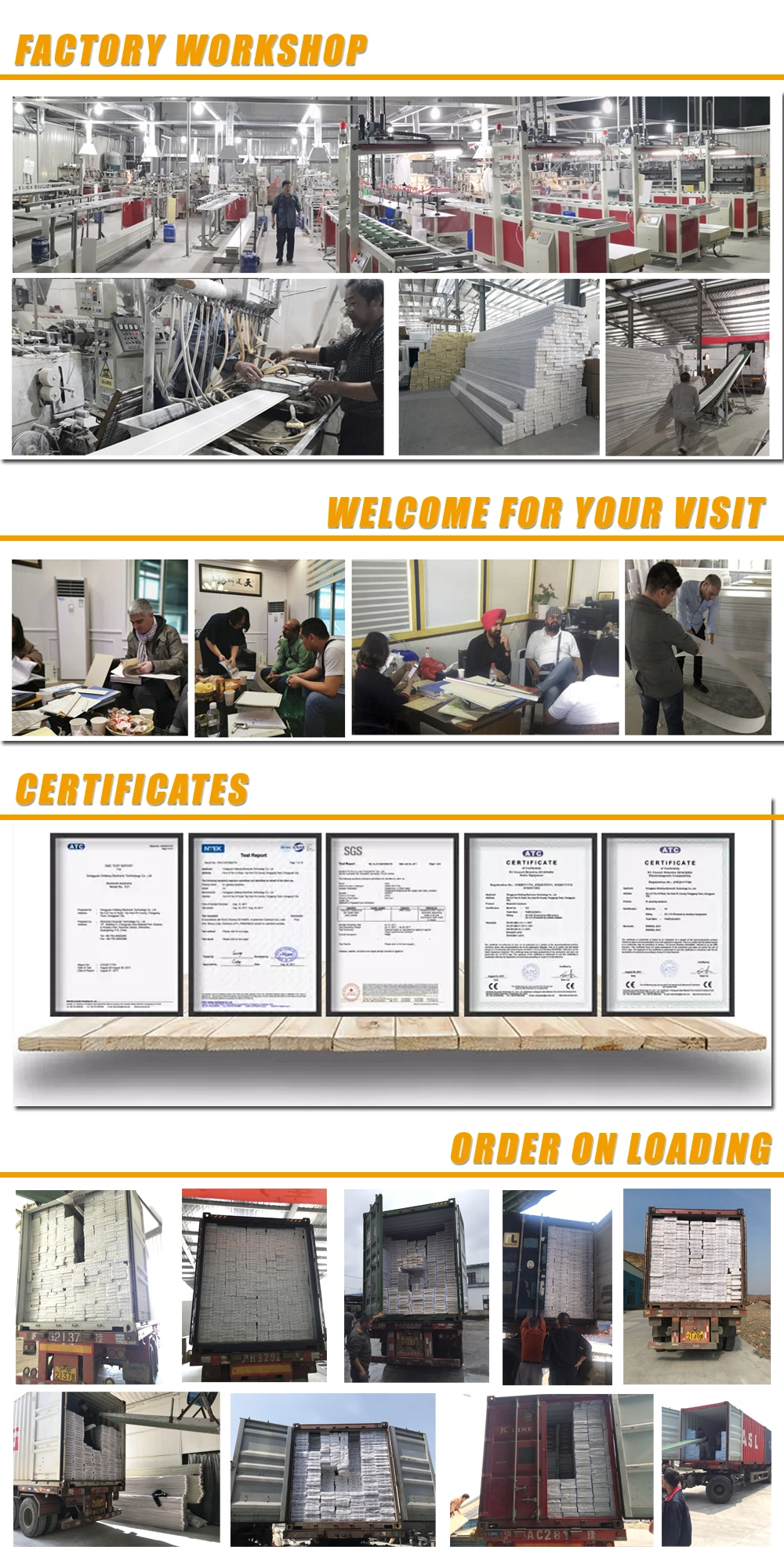 More Hot Sale Panel &Color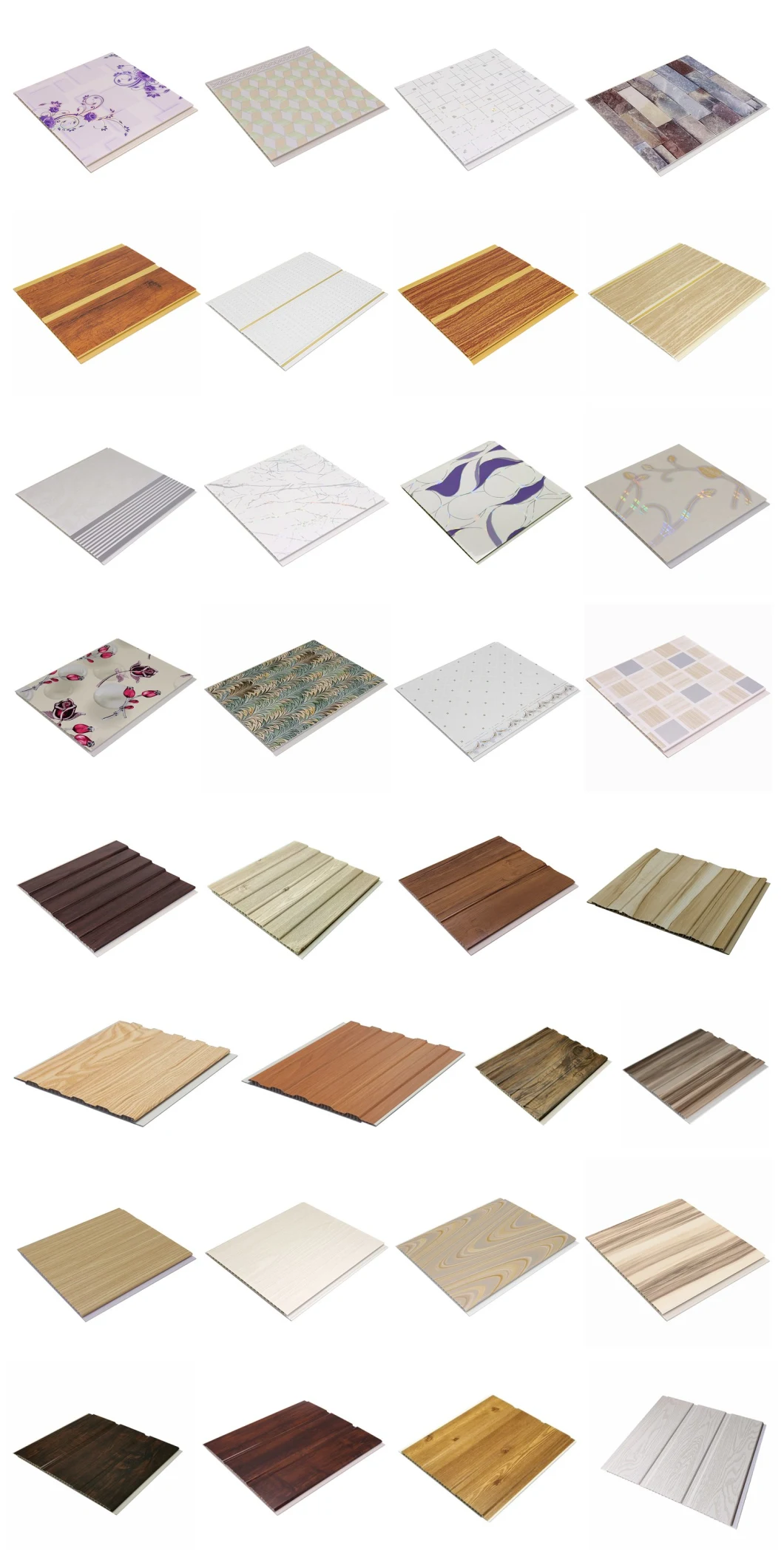 Relative Products